Each year, Mary Meeker at KPBC publishes the actual state of the Internet industry (
KPBC Internet Trends 2015
) mobile internet and mobile advertising facts trends.
However the presentation is quite long (
Techcrunch shorter version
), the mobile internet section has some insight, which has to emphasized separately, and could be very important to mobile marketing professionals.
Some thoughts about the mobile internet and advertising industry
mobile internet use is growing faster than internet usage generally
digital media consumption is bigger than all other media (including desktop)
mobile ad spend growing and caught up mobile media consumption, but the GAP is still big (US market)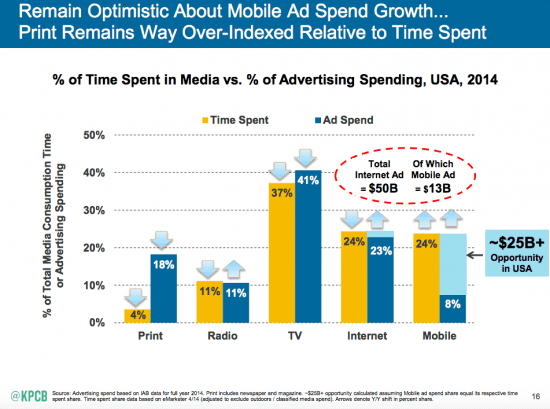 mobile and its relationship to commerce dominates the international growth potential for determining countries, like USA, China and India (no info for European region)
remarkable changes in the two most important audiences (Millenials and GenX) behavior and characteristics
innovations in social media and ad-delivery technology to gain revenue and close GAP
changes happen in the most popular content formats (the emerging solutions are, Facebook Carousels, Pinterest Cinematic Pins, Vessel's five-sec video ads, Google Local Inventory ads)
the importance of buy button and its optimization to mobile
And some statement for the Hungarian market
However the Hungarian digital- and mobile ad spend growing a according to IAB yearly report (
Adex IAB Hungary 2014
), there is huge GAP and thus business opportunity in mobile advertising at the Hungarian market.
digital spending is gaining remarkable share in total ad spend
mobile spending is also growing significantly
And one final input. Concerning the mobile media consumption versus mobile media spend in Hungary,
Adwant Mobile Advertising Ltd
, a Hungarian mobile ad SSP technology start-up made the comparison.
mobile media consumption vs. mobile media spend (HUN)